Father's Day Gift Ideas | Meaningful Father's Day Surprise Ideas
Father's Day Gift Ideas
Fathers are among the finest masterpieces of nature. They are one of the truest examples of unconditional love and selfless companionship. Since the existence of being, fathers have left no stone unturned to give their children the finest of lifestyles. 
While the very existence of fathers is meant to be celebrated every day, the world has dedicated the third Sunday of June every year specifically to celebrating fathers. 
June 18th, 2023!
This year International Father's Day falls on June 18th. That being said, there isn't much time left for Father's Day 2023. So, dear children move your gears up and decide upon meaningful Father's Day gifts without any delays. 
Humanitive, dedicated to helping the underprivileged comes ahead with some unique gifts for Dad. Humanitive Fathers Day gift ideas revolve around the principle 'gifting and giving go hand in hand.' It means that while purchasing personalized gifts for Dad, you can also choose to help someone in need. Read on to discover the best Father's Day surprise ideas. 
Personalized Father's Day Gifts
Our dads may keep telling us that they do not need any gifts on any occasion, but they do love surprises once in a while. Well, who does not?
Showing up with no gift to appreciate them for all that they've done for us is not plausible. But then again, finding the perfect gift for your dad that truly matches his personality and makes him feel special can be a little tricky. Therefore, we have created a list of simple Father's Day gift ideas. You can choose any of these unique gifts for Dad and make this Father's Day a little extra special for him and you as well.
Top 6 Meaningful Father's Day Gifts Ideas
Flowers:

Flowers are the simplest and easiest of ways to bring a million-dollar smile to everyone's face. So why not your Papa?

Wake your dad up to a bright, fresh & sweet-smelling bouquet. Let nature's masterpiece add a pop of color to another one's new day. Let these flowers beautify his morning and make him feel pampered.

Bake a Cake:

When it comes to surprising your dear ones on their special day, baking a cake should be your go-to option. The sweet flavours of the dessert cake shall convey your emotions just right.  

Try out a new cake recipe for your dad this Father's Day. Surprise him with personalized Father's Day gifts that you have prepared yourself. Trust us on this one, your DIY cake will be topped with absolute love and care.

If you are an amateur baker, try baking something that you have tried before. 😀

Plan a family trip:
Since childhood, our dads have been the ones taking us on trips. In all the stages of our lives, they have ensured that we're having a good time. This year, be the one to take the lead. Take your dad on a mini trip to his favorite place and make him feel special. Let his vacation be one of your Father's Day present ideas.
Make a delicious Father's Day Dinner:

Food becomes a symbol of love and emotion, every time we run short of words. A well-prepared Father's Day special dinner can be among the lovable Fathers Day present ideas.

Make food your love language and express your best emotions by surprising your dad with his favorite delicacies. Prepare it with absolute love and care because food garnished with love is always more delicious and flavourful.

Pyrophobes can arrange a treat for their loving dads in their favorite restaurant.

Create a Photo Book:

Memories are cherished by all, especially that of the good old days. They may seem tough on the outside, but dads have the softest hearts. They may fail to express their love in words, but their actions reveal a lot.  

Every dad loves to reminisce and cherish lovely memories of when you were a kid. Collect all the special pictures of your childhood (or even his) and compile them in a photo book. 

Photo Books are one of the highly-appreciated Fathers Day gift ideas. Make a photo book of your personalized gifts for Dad. So, express your undying love for your all-time favorite superhero through a customized photo book.

Father's Day Special Gift Box from Humanitive:

People from all walks of life contribute to social causes in the name of their loved ones. Doing so is their way of earning a good deed for their beloved. A Father's Day Special Gift Box from Humanitive shall be one of your go-to gift ideas for fathers. 

Seeking Perfect Father's Day Gift Ideas 2023?

Let Humanitive be your friend in need. We ensure providing your loved ones with the most meaningful gifting experience.
Father's Day Petit Gifts
Father's Day Classic Gifts
Father's Day Grand Gifts
Father's Day Mini Gifts
L'Amour Father's Day Special Gifts
Gifting Made Easy @ Humanitive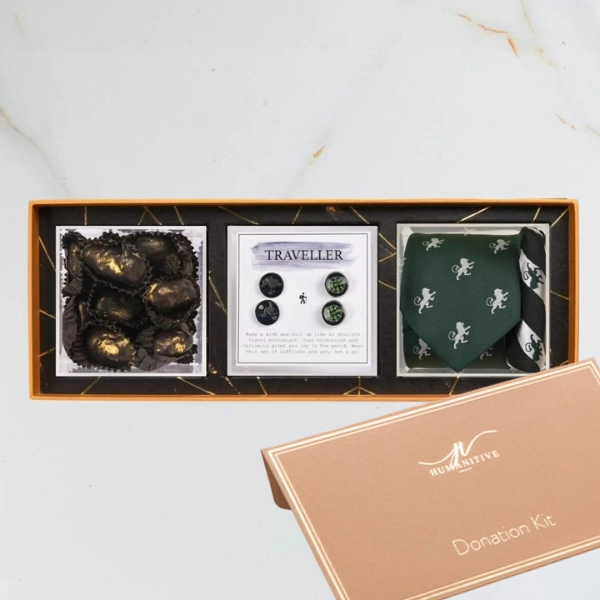 Unlike other gifts, the gift boxes from Humanitive are unique. They are curated using premium gifts from the Humanitive gift shop. Along with each gift box comes a 100% transparent donation contributed to helping those in need. Each gift box includes a donation that is made on behalf of the recipient. This Father's Day, surprise your dad by making a 100% transparent donation to a cause that is very close to his heart.
Rest assured, from the sender to the recipient, we ensure the best experience for everyone.
Father's Day Gift Ideas India
From Animal Welfare to Destitute Elderly, pick a cause that your dad cares about. Surprise him with simple Father's Day gift ideas that contribute to creating a brighter future for others. 
Let a gift box from Humanitive be a part of your unique Father's Day gift ideas for 2023. Surprise your dad with the most meaningful gift he will ever receive.
Humanitive Gift Box Includes –
We have collaborated with 8 Non-Profits that cater to the needs of the underprivileged in society. Humanitive has gift boxes for all occasions. For every donation that you make, you buy a box of premium gifts for your loved ones and vice-versa. 
Father's Day Gift Box from Humanitive includes a donation to a good cause alongside gifts that your father will love. Treat your dad to premium gifts from our gift shop.
According to your convenience, you can customize a gift box or choose from a range of pre-curated ready-to-ship gift boxes. The Father's Day Gift Boxes from Humanitive shall make your last-minute gift shopping effective.
From neckties & pocket squares to bracelets, we have everything that your dad will like.
Now is the time to make this Father's Day a little more memorable and special.