Top 10 Rakhi Gifts For Your Brother | Rakhi Gifts For Younger And Elders Brothers
Gone are the days when it was just the brother who used to bring gifts for Rakhi. Now even the younger sisters bring Rakhi gifts for brother & not just normal gifts, but they always keep an eye on more unique Rakhi gifts for brothers. The tradition of gifting something to your younger brother has been going on for a long period of time. If you are an older sister looking for gift ideas for Raksha Bandhan for your baby brother or a younger sister who wants to surprise her brother, we have got it all covered for you!
Raksha Bandhan is just around the corner & we are here to help you out by suggesting some of the best gifts in India for Raksha Bandhan. With these gift ideas, you can create a perfect Rakhi Gift Hamper.
1) Bracelets-
Bracelets are one of the boys' favorite accessories and what's better than getting a chance to add one more amazing bracelet to their bracelet collection? With Humanitive, you can get bracelets, which can be used as a Rakhi Gift and a Rakhi alternative. If you're tired of the usual Rakhis and want something that gives back, then this is just what you've been looking for! Bonus! Every bracelet comes with a meaningful quote that is sure to brighten your brother's day. We hope you liked this idea of a Rakshabandhan gift for brother.
2) Ties & Pocket Squares
Ties & Pocket Squares are one of the effortless ways of looking handsome & classy. From making a bold or fierce statement to standing out in the crowd, the power of pocket squares & ties can never be underestimated. Furthermore, we are also sharing a tip. It is believed that you should match your tie with your pocket square. However, if your pocket square complements the rest of your outfit, then this isn't really necessary. Add this in your Rakhi gift hamper for brother and also enlighten him with this tip and thank us later.
3) Nuts
The traditional gift, which is also considered as a royal gift, never goes out of style. If your brother is not into materialistic things, then gifting him nuts will make the perfect Raksha Bandhan gift. Check out our Silver coated almond if you want to give it a royal touch or opt for oregano cashews for a funky taste. This definitely is one of the best memorable gifts online in India. And what is better than nuts that also have a good cause? A good cause? Well, read through the end of this article and you will find out about it.
4) Playing Cards
Who doesn't like to play cards? Playing cards is one of the fun ways of having a good time with your family and friends. With Humanitive, you can add a set of three different playing cards. Play UNO or playing cards or monopoly deal. The choice is all yours. Lockdown and all this covid situation made us used to of Ludo, but if you want to step out of the virtual world and if you and your brother have been thinking of buying it for so long then this is a great time to do so. Put it in your Rakhi gift hamper for brother without giving it a second thought.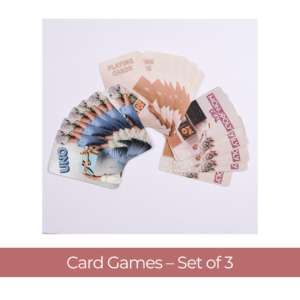 5) Cufflinks
A pair of cufflinks can enhance any formal outfit and display your character. Cufflinks are nowadays an essential part of dressing up and if you want your brother to carry that gentleman look, then cufflinks will be the best fit for that. Want a few tips for cufflinks that you can share with your brother?  You can also use a personalized gift box to keep your brother's cufflinks. Well, here you go, these are some tips that he can follow to stand out from the rest of the crowd- Wear cufflinks when dressing for a wedding and match your cufflinks to your shirt studs at formal occasions.
6) Personalized Photo Frame
Capture the cherished memories you've shared with your brother by gifting him a personalized photo frame. We can guarantee that this is one of the best rakhi gifts for your brother. Choose a memorable photo of the two of you and have it beautifully framed. This thoughtful gift will not only remind him of the wonderful times you've had together but also make a lovely addition to his room or workspace.
7) Grooming Kit
Help your brother look his best by gifting him a grooming kit. Include essential items like a high-quality razor, shaving cream, aftershave, and cologne. You can also add a stylish comb, hair gel, or beard oil, depending on his grooming preferences. This gift will not only enhance his appearance but also show that you care about his self-care routine.
8) Bluetooth Speaker
For music lovers, a Bluetooth speaker is the best rakhi gift for their brother. He can enjoy his favorite tunes anytime and anywhere. Look for a portable speaker with good sound quality and long battery life. Whether he's chilling at home or having a gathering with friends, this gift will surely be appreciated.
9) Subscription Box
Consider gifting your brother a subscription box tailored to his interests. Whether he's a bookworm, a fitness enthusiast, or a coffee lover, there's a subscription box for every hobby. Each month, he'll receive a curated selection of items related to his passion, making it a gift that keeps on giving.
10) Adventure Experience
Create lasting memories by treating your brother to an adventure experience. Whether it's a thrilling skydiving session, a scenic hot air balloon ride, or an adrenaline-pumping bungee jump, choose an activity that suits his taste for adventure.  This can be a Raksha Bandhan special gift for your brother. This unique gift will give him an unforgettable experience and strengthen the bond between you.
Remember, the best gifts are those that come from the heart. Consider your brother's interests and preferences when choosing a Rakhi gift, and don't forget to add a personal touch. The most important thing is to express your love and appreciation for your brother on this special occasion.
Celebrate the spirit of Raksha Bandhan by presenting your brother with a thoughtful and meaningful gift. Make this Rakhi a memorable one filled with joy, love, and happiness.
We hope you have got some helpful Rakhi gift ideas to prepare Rakhi gift hampers for your brother. Apart from this, sisters also look for personalised Rakhi gifts for brother or customized gifts for brother on Rakhi. If you are also looking for some unique Rakhi gift ideas for brother to stand out and make your brother feel special, then you can create a meaningful gift with us that will not only leave your brother spellbound but also help someone in need. Your brother will also get a personalized thank you video from the beneficiary of the donation.
Humanitive – The Best Place To Buy Rakhi Gifts
With every purchase, you're supporting Humanitive's non-profit partners and their inspiring mission to make a difference in society. Learn more about our partner non-profits and their work by visiting our website. Don't miss out on creating a perfect Rakhi Gift Hamper with meaningful gifts and a good cause. Order now and make this Raksha Bandhan one to remember!
We have spiced up our Raksha Bandhan sale. Use code SIBLINGLOVE15 to get 15% on all of our gift boxes.
This Rakhi, leave an impact and share happiness.