SPREAD LOVE, SHARE KINDNESS
Welcome! We're glad you're here. Let us familiarize you with our unique and philanthropic gifting options. Choose one of the following:
GIVE THE PERFECT GIFT IN THREE EASY STEPS
Step 1
SELECT BOX
Pick one of our designer boxes that is perfect for the occasion.
Step 2
CHOOSE YOUR GIFTS
Select the perfect gift items for your box to create a masterpiece.
Step 3
ADD A DONATION KIT
Donate to a cause on behalf of a loved one. We will create a donation kit and add it to the gift box.
With us, gifting is as enjoyable for the giver as it is for the recipient. With our ready-to-ship curated boxes, forget the stress of putting together the perfect gift. We have boxes created for all occasions, paired with suitable donations that are sure to melt the receivers' heart – you just sit back & soak in the compliments!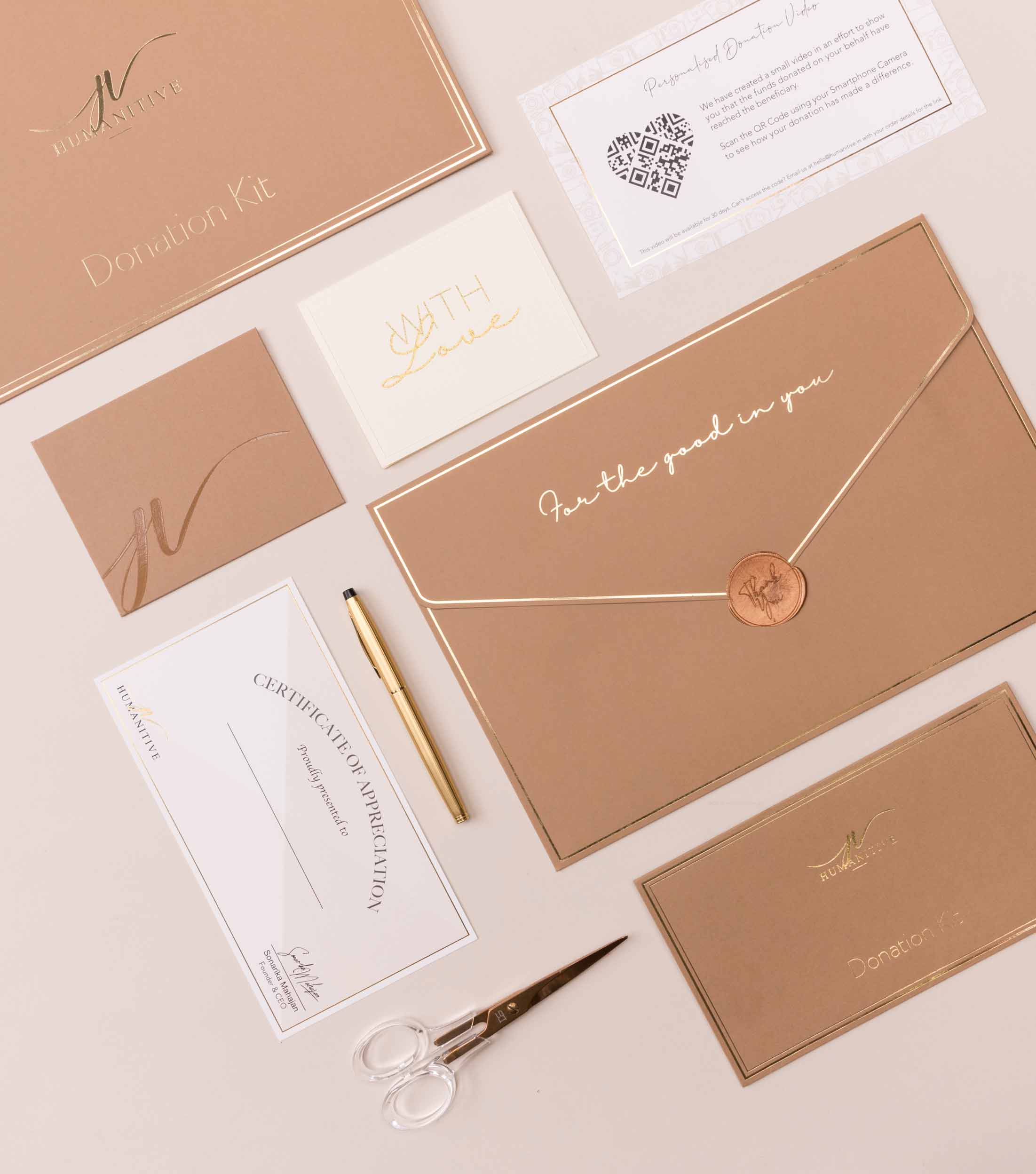 For any donation that you make, we add a donation kit to the gift box, that includes:
Letter of Acknowledgement from the Non-Profit
Certificate of Appreciation
Personalized Thank you video
These kits are our way of communicating one hundred percent transparency, making it the most meaningful present you could give. We are sure that this will make your loved ones truly feel the joy of giving.
At Humanitive, we come to work every day because we want to make a difference in the world. We envision being the world's most ethical store, where each purchase is either helping an underprivileged child get quality education, providing medication to a destitute elderly, or ensuring there is food and water for a stray dog. At our core, Humanitive operates on Impact, Transparency, and Quality.
Staying true to these beliefs, we have created a platform where gifts can be made meaningful, without compromising on style, elegance, and personalization.
Total impact recorded between 1st November 2020 – 28th February 2021
₹
0

Total Funds Donated


Through the gifts you purchased, we were able to donate ₹1,05,400/- to our partner Non-Profits doing exceptional work. 
0

Meals Distributed


670 warm meals were distributed to the destitute elderly, underprivileged children, the homeless and stray dogs through your donations to our partner Non-Profits. 
0

Underprivileged & Homeless Helped
Underprivileged & Homeless
Helped


119 Underprivileged & homeless were helped through sponsoring clothes and basic necessities.
WHY YOU CAN PUT YOUR TRUST IN US
TRANSPARENCY PROMISE
We understand that you place your trust in us while donating through our platform, and we take this very seriously. It is our responsibility that your donations reach the people you want them to, and are utilized for the exact cause you chose. From a stringent non-profit screening process to sharing the impact of the donation with you, we have put in place a few key measures that are embedded in our products to give you peace of mind while using our platform.
0% COMMISSION ON DONATIONS
We are so happy to inform you that our platform does not charge any commission from our Non-Profits from the donation amount. All money you choose to put towards a cause is directly sent to the Non-Profit.
Humanitive only acts as an intermediary and transfers the donation amount from you to the Non-Profit.
Ashita Kochhar
Brilliant concept. Excellent service. Timely delivery. What else can one ask for. Great job guys ! You're winning hearts !
Ashita Kochhar
Nikhat Khan
It was a wonderful experience😍
Thank you so much Humanitive🤗💜
The products are amazing👌
The message and the video is superb, indeed a super meaningful gift😍😍
Nikhat Khan
Kanika Gulati
For my part, I am almost contented just now, and very thankful. And more contented with the thought behind this amazing initiative. The greatest thing I can thank you for is all the joy you've brought to me and many others. Kudos to Humanitive for their efforts and creativity in spreading warmth through their beautiful yet so meaningful gifts.
Kanika Gulati
Tusshar Batra
Considering my marketing profile, I come across a lot of ideas and concepts. Humanitive.in is the most well-designed, well-implemented concept I have seen in a while. I recommend you to checkout their webpage; it will be totally worth your time. I feel there is a philanthropist under all of our skins. Humanitive was able to scratch that out of me. I have been inspired. Thank you !!
Tusshar Batra
Simran Mahajan
I chose Humanitive because they were a one-stop shop for all my needs and I felt I could trust them with both – finding the perfect gift for a loved one and donating to my charity of choice. The simplicity and transparency won me over.
Simran Mahajan