Welcome! We're glad you're here. Let us familiarize you with our unique and philanthropic gifting options. Choose one of the following:
GIVE THE PERFECT GIFT IN THREE EASY STEPS
Step 1
SELECT BOX
Pick one of our designer boxes that is perfect for the occasion.
Step 2
CHOOSE YOUR GIFTS
Select the perfect gift items for your box to create a masterpiece.
Step 3
ADD A DONATION KIT
Donate to a cause on behalf of a loved one. We will create a donation kit and add it to the gift box.
With us, gifting is as enjoyable for the giver as it is for the recipient. With our ready-to-ship curated boxes, forget the stress of putting together the perfect gift. We have boxes created for all occasions, paired with suitable donations that are sure to melt the receivers' heart – you just sit back & soak in the compliments!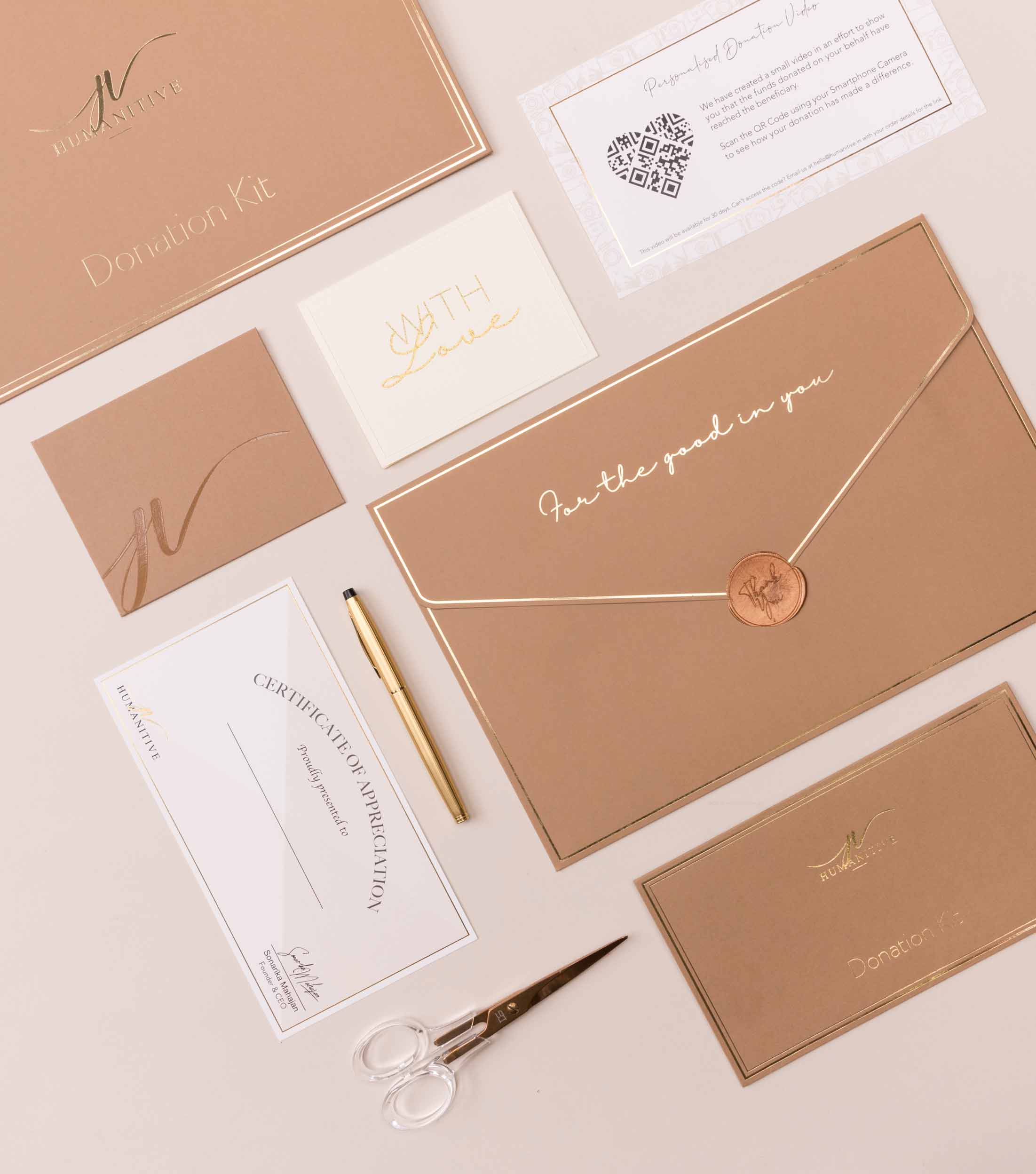 For any donation that you make, we add a donation kit to the gift box, that includes:
Letter of Acknowledgement from the Non-Profit
Certificate of Appreciation
Personalized Thank you video
These kits are our way of communicating one hundred percent transparency, making it the most meaningful present you could give. We are sure that this will make your loved ones truly feel the joy of giving.
At Humanitive, we come to work every day because we want to make a difference in the world. We envision being the world's most ethical store, where each purchase is either helping an underprivileged child get quality education, providing medication to a destitute elderly, or ensuring there is food and water for a stray dog. At our core, Humanitive operates on Impact, Transparency, and Quality.
Staying true to these beliefs, we have created a platform where gifts can be made meaningful, without compromising on style, elegance, and personalization.
Total impact recorded between 1st November 2020 – 30th April 2021
₹
0

Total Funds Donated


Through the gifts you purchased, we were able to donate ₹1,50,300/- to our partner Non-Profits doing exceptional work.
0

Meals Distributed


1270 warm meals were distributed to the destitute elderly, underprivileged children, the homeless and stray dogs through your donations to our partner Non-Profits.
0

Homeless Helped


125 homeless people were helped by sponsoring clothes and basic necessities.
WHY YOU CAN PUT YOUR TRUST IN US
TRANSPARENCY PROMISE
We understand that you place your trust in us while donating through our platform, and we take this very seriously. It is our responsibility that your donations reach the people you want them to, and are utilized for the exact cause you chose. From a stringent non-profit screening process to sharing the impact of the donation with you, we have put in place a few key measures that are embedded in our products to give you peace of mind while using our platform.
0% COMMISSION ON DONATIONS
We are so happy to inform you that our platform does not charge any commission from our Non-Profits from the donation amount. All money you choose to put towards a cause is directly sent to the Non-Profit.
Humanitive only acts as an intermediary and transfers the donation amount from you to the Non-Profit.
Pooja & Kushal
There was always a sweet space between gifting something to someone and also being able to share love and light in their name. Humanitive beautifully fills that gap. You can make someone feel remembered and loved but also extend that love to many more which is such a wonderful idea. We now have a token to remember the moment for which we decided to gift ourselves a humanitive box and also be able to extend our gratitude and celebration with strangers. I am really glad to have stumbled upon this initiative. Lots and lots of love.
Pooja & Kushal
Mahima Ketankumar Shah
I gifted a gift to my sister after winning. She had tears of joy and happiness after she saw the gift. Love the box and only hearts for the video message of the girl to whom donation was made. Special thanks to Team Humanitive for this wonderful initiative of gifting and donating at the same time. Thanks for Spreading happiness to more and more people. Wishing Humanitive to grow globally and help many more people just like they do❤❤
Mahima Ketankumar Shah
Dhwani Vora
Absolutely love the whole idea of customizing a gift while also being a part of doing good for someone out there. It makes for such a thoughtful gift each time you make a donation for an initiative. Excellent execution and love the packaging. Highly recommended. 💜
Dhwani Vora
Shruti Katyal
Finding the perfect gift for a loved one has always been a tough job for me.
When I came across Humanitive, I was floored by their concept and instantly knew that this is a cause I can definitely get behind. The incredible folks at Humanitive have been so supportive right from the start. The cause, the planning and the execution made the whole experience truly special.
Can't wait to see more of Humanitive in the gifting space.
Keep up the good work guys.
Shruti Katyal
Bhavna Rasaily
Ingenious concept of pairing gifting with charity, Humanitive surpassed my expectations. The entire experience was personalised & heartwarming. I had ordered a gift box for my Dad & him along with my family loved the gift as well as this entire idea immensely. All the products/gifts inside the box were of great quality too. And the personalised donation video was the cherry on top of it all. Thank you, team Humanitive.
Bhavna Rasaily