A visit to MITR TRUST
We celebrated the month of PRIDE with the LGBTQIA+ community of Mitr Trust, our partner non-profit. Mitr Trust works towards the welfare of transgender people. They aim to create a safe space where transgender people can live with dignity and social justice, protecting their rights and safeguarding them from harassment and violence.
On the occasion of Pride month, Humanitive- the most meaningful gift shop, designed & developed Mitr Trust's website pro bono. Because of the lack of funds, the organization was unable to invest on website creation & online marketing. Therefore, we decided to gift them a website so that they can interact with people and receive donations online. This will enable them to achieve the vision they are aiming for.
We began our visit by joining the enthusiastic members of the Mitr Trust, followed by a ribbon-cutting ceremony by Rudrani Chettri, the founder of Mitr Trust. This visit marked the official launch of their website – https://www.mitrtrust.com/. It was a touching moment for all of us.
We also organized a skincare and make-up session for the members of the Mitr Trust, which started after the ribbon-cutting ceremony. Nikita Grover, a renowned make-up artist & educator, not only volunteered to give a free session, but she also happily answered all the questions that they had. She started by quoting, "Makeup when you wake up". Explaining further, she added, "Makeup is not a fake layer, as many people perceive, but it is more like enhancing your facial features." She shared some of her useful make-up & skin care tips during this fruitful session. She also recommended skin care products that are affordable and can be used daily. Everyone was amazed at her home remedies because they were so simple and time-saving and promised remarkable results.
This make-up & skincare session was followed by the distribution of snacks & hygiene kits to the beneficiaries.
You too can offer a helping hand to the underprivileged members of the Mitr Trust by choosing a meaningful gift for your loved one and adding a donation program associated with them on behalf of the recipient.
Here are the donation programs that we have with Mitr Trust-
1) Sponsor Hormone Therapy sessions for an underprivileged Transgender for a month
2) Sponsor Dry Ration kits for 5 underprivileged Transgenders for a week
3) Adopt an underprivileged Transgender for a month
4) Sponsor Makeup Kits for 5 underprivileged Transgenders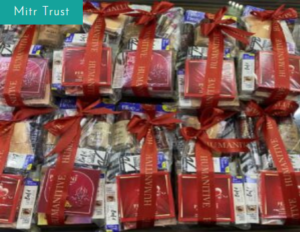 5) Sponsor a Makeup Kit for an underprivileged Transgender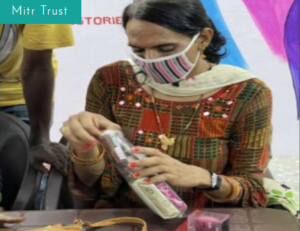 6) Sponsor Health kits to 5 underprivileged Transgender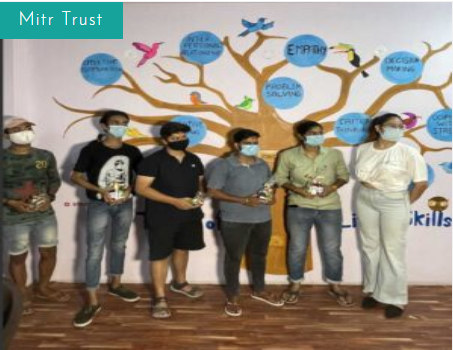 7) Sponsor a Health kit for an underprivileged Transgender
8) Sponsor rent for an underprivileged Transgender for a month
9) Sponsor a pair of Flip Flops for an Underprivileged Transgender
10) Sponsor Dry Ration kit for an underprivileged Transgender for month
It was a wonderful visit where we interacted with some amazing people, had a wonderful & informative session with Nikita & had a great time. If you too want to create an impact & are looking for impactful gifts then Humanitive is the perfect place for you.