Christmas Celebration 2021
Our team celebrated Christmas 2021 with the kids of Parkshala. Besides being so much fun, it was a memorable experience to spread joy to the children.
About Parkshala
Parkshala, a partner non-profit, serves as an after-school support group to bridge the educational and moral gap between these children and their affluent peers. To utilize already available resources for this purpose, they conduct their lessons in community parks and halls.
Priya Gupta has been running the organization since March 2016 and has dedicated all of her time and efforts to the project. By taking an unconventional route, she dedicated time and energy to bringing education to the grassroots. Priya is not only an influential individual, but a Reiki Master Healer as well. Additionally, she is a mother of a toddler.
Humanitive decided to celebrate the season of giving back with the children of Parkshala!
We began the celebration by arriving at Parkshala. The park is located in Noida. With a local event planner, Humanitive organized a few fun activities for the kids.
There were a few exciting games that all the children participated in during the celebration. They played games where they had to cross a hoola-hoop without touching the ends of the hoops and played fire in the mountain.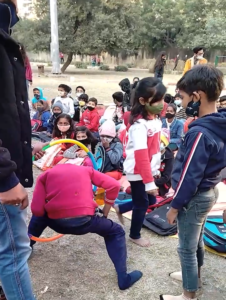 After that, the tattoo artist asked kids about their favorite things in the world and gave them their personalised tattoos. Each kid was thrilled and showed it off to the fullest extent. Afterwards, Santa arrived with gifts for all the kids. A few carols were sung by the Santa as he distributed gifts to all.
It was the puppet show that stole the show. Professional puppeteers performed an interactive show for the children. Throughout the puppet show, everyone cheered and had a great time. The celebration concluded with samosa and jalebi distribution to the kids.
We had a memorable and joyful Christmas celebration with the kids of Parkshala!
Donation Programs
With our meaningful gifts, you can add a donation programs in partnership with Parkshala. You can make their day better & brighter:
Sponsor Football studs to 1 underprivileged kid
Provide Notebooks to 10 underprivileged children
Sponsor internet connection for 5 underprivileged children for 1 month
Provide health kits to 15 underprivileged children
Sponsor a cake cutting ceremony with 30 underprivileged children
Choose from these donation programs in partnership with Parkshala to improve the lives of underprivileged children.
Also, don't forget to check out Parkshala at
https://www.parkshala.com/index.php