Christmas Gifts With A Personal Touch
Christmas celebrates the birth of Jesus Christ, and no celebration is complete without gifts. Gifts have the potential to instantly transform someone's mood, but surprise gifts can impress people in ways that they have never experienced before. We are sure you're thinking about how you can surprise your loved ones with unique Christmas gifts by now. Our Boxie has an idea for you and we are so excited to share it with you.
Hear Boxie in his own words, "Hi, guys! Christmas is just around the corner and I know you all must be looking for meaningful presents for your dear ones. When it comes to gifts, nothing beats a gift that has a personal touch. I have some baking gift ideas that will not only make your gifts different, but will also add a personal touch to your gifts. In these, "Bake me a gift", you will find three scrummy dishes that you can to make homemade baking gifts."
We are pretty sure our amazing chef has already convinced you to opt for homemade baked goods for christmas gifts, but if he hasn't, then let the recipes speak for themselves. These Christmas baking gifts are perfect if you want to get meaningful gifts for loved ones to make them go gaga. In this post, we will give you the most Meaningful Gifts you can find Online in India.
Caramelized Onion and Apple Tart
Ingredients
Add 2 tablespoons olive oil
2 medium onions, sliced
½ cup sour cream
2 red apples, cut into small pieces
kosher salt and black pepper
2 sheets frozen puff pastry, thawed
Directions
Heat oven to 400º F. Heat the oil in a large skillet over medium heat. Add the onions and cook, stirring occasionally, until soft and golden brown, 12 to 15 minutes.
Stir in the apples, ½ teaspoon salt, and ¼ teaspoon pepper and cook until just tender, 2 minutes.
Place each sheet of pastry on a baking sheet and prick all over with a fork. Spread with sour cream, leaving a ½-inch border.
Garnish with the onion mixture and bake until the pastry is crisp and browned, 30 to 35 minutes. Cut into pieces before serving.
For an extra touch you can use beautiful boxes for gifts and assemble these delicious treats in it for an incredible experience.
Sour
Cream Mashed Potatoes
Ingredients
3 pounds gold potatoes, peeled and cut into 1-inch pieces
kosher salt and black pepper
6 tablespoons unsalted butter, cut into pieces, plus more for serving
¾ cup sour cream
¾ cup whole milk
Directions
Place the potatoes in a large pot and add enough cold water to cover. Bring to a boil and add 2 teaspoons salt. Simmer for 20 to 25 minutes or until tender. Return the potatoes to the pot after draining.
To the mashed potatoes, add the butter, sour cream, milk, 1 teaspoon salt, and 1 teaspoon pepper, and mash until smooth. Top it with additional butter and pepper.
Check Out Our More Meaningful Gifts
Croissant and Chocolate Bread Pudding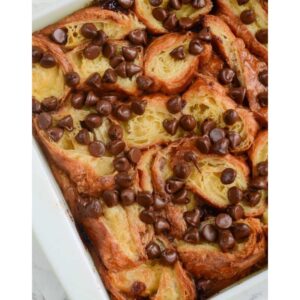 Ingredients
Unsalted butter
6 large egg yolks
2 cups whole milk
1 cup heavy cream
A cup of granulated sugar
1 teaspoon pure vanilla extract
½ teaspoon kosher salt
½ teaspoon ground nutmeg
6 croissants, cut into 1-inch pieces (about 1 pound)
4 ounces bittersweet chocolate, cut into chunks
Directions
Heat oven to 375°F. Butter an 8-inch square baking dish.
In a large bowl, whisk together the egg yolks, milk, cream, sugar, vanilla, salt, and nutmeg. Add the croissants and chocolate and mix to combine.
Transfer the mixture to the prepared baking dish and bake until set for 30 to 40 minutes. Serve warm or at room temperature.
Don't forget to pack these croissants in a ready made gift boxes for an personalized touch!
Loved these recipes? Why don't you try them out and make baking gifts this Christmas? If you want to leave an impact with your gifts, this Christmas, you should definitively check out Humanitive's Christmas pre curated boxes that also help an underprivileged in need.
Change the world with Humanitive
Ready to make your loved ones go gaga with meaningful Christmas gifts? Follow our amazing chef Boxie's baking gift ideas and create unique homemade gifts that will impress your dear ones. 
And if you want to take your gifting game to the next level, check out Humanitive's Christmas gift items online in india that not only add a personalized touch to your gifts, but also support underprivileged communities in need. 
Every gift purchased on our platform makes a positive impact on the world. So, let's spread joy and kindness this Christmas with curated gift boxes from Humanitive. 
To know more about the Inspiring Story of Humanitive, Connect with us on Instagram, Pinterest, and LinkedIn to learn more.