Top 10 Christmas Gift Ideas for 2023 To Amplify X'mas Celebrations
It's that time of the year again when people start looking forward to spending the last few days of the year with a bang. After an entire year of dedication and hard work, people are excited for Christmas. No wonder this festival is primarily for Christians, but everyone else loves it too. The idea of exchanging gifts along with family dinners, social gatherings, etc. adds to this festival's charm. It is the only festival that is celebrated all across the world and without gifting it's festivity is incomplete. But picking up the right unique Christmas gifts is not an easy task. You may get good Christmas gifts but when it comes to the top gifts for Christmas, you need to be at the right place.
 But to make everyone happy and create an impact without making much effort, Humanitive is here to help you. It is one of the best gifting websites in India that allows you to select the top gifts for Christmas for your clients and employees. You won't have to put in extra effort while getting fun and meaningful Christmas gifts from them. Moreover, the beneficiaries go to Humanitive's non-profit partners. So, you won't only be getting the best Christmas gifts but also doing a good deed. 
So, without further ado, let's come to the list of the best gift ideas for Christmas 
Top 10 Christmas Gift Ideas for 2023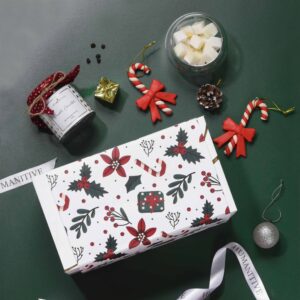 To make everything simpler, here are the top 10 best gift ideas for Christmas: 
1. Desk Decorations
If you are looking for the best Secret Santa gifts for your office this year, then custom desk decorations can be an apt option. You can get it customized as per your budget and needs. In this, you can add a frame collage, notepad, pens, diary, etc. This will add a nice charm to the whole gifting idea.
2. Fun Notepad
In the corporate world, everyone has various things to do every day. Gifting a fun notepad can be one of the most meaningful Christmas gift ideas. Clients or employees can complete their to-do lists with the help of a notepad. However, you can always get it customized by adding an uplifting phrase to its pages. You can even add a pen along with a notepad.
3. Temperature Control Coffee/Tea Cup
Working every day without a cup of coffee or tea is impossible. You can get your clients and employees this coffee or tea cup, which can re-heat the beverage countless times. Also, this can be beneficial to keep them active and full of energy. This is a meaningful Christmas gift option that will be loved by all.
4. Echo Dot
This is one of the best Christmas wish gift ideas. In other words, this is personal assistance that is both fun and helpful while working in the office. Be it your client or employee, they are going to love an echo dot as a Christmas gift. There are many features of this gadget that can make them more productive while working. Also, it is fun outside the office as well.
5. Cutlery Kitchen Set
Another one of the unique Christmas gift ideas is a cutlery kitchen set. If you are looking for gender-specific gift ideas, then this can be the best option. You can gift a kitchen set to the women working in your office. This is a useful gifting option that will be loved by all. Also, the variety when choosing a cutlery kitchen set is unmatchable. So, you might not end up hustling a lot.
6. Ready to Ship Boxes
Are you too late to plan unique Christmas gifts for your employees and clients? Humanitive's ready-to-ship boxes are always there to rescue you. These boxes are ready to ship and act as a saviour as a last-minute gifting option. There are some items included in these boxes that will make everyone's Christmas merrier. With these boxes, you will be sorted at all costs.
7. Mystery Box
People love gifts when they come with a bit of mystery. You can always give your clients and employees a mystery box. This box can include both meaningful and decorative gift items. Also, you can plan mystery boxes as per your budget and choice. You can put chocolates, a photo frame, small gadgets, and other stuff in the mystery box to make it unique and worthy.
8. Screen Magnifier for Phones
Gifting a screen magnifier for phones is one of the best Christmas gift ideas for gadget freaks. Whether you are gifting it to your employee or client, they are going to go crazy after receiving this gift. This makes it easy to zoom in on the phone screen. Further, it makes using the phone worthwhile during videos, shows, or simply while doing office work on the phone. However, this gift will also be loved by non-gadget lovers as it is useful and fun.
9. Gourmet Gift Boxes
Who said gourmet gift boxes are only meant to be gifted on Diwali? You can choose Humanitive's gourmet gift boxes to be gifted for Christmas as well. These boxes include a lot of things that will make anyone go weak in the knees. Also, you can always customize such gift boxes and have the liberty to add or subtract items from them. This is one of the unique Christmas gifts that will lessen your burden.
10. Scented Candles
You can gift your employees and clients with scented candles on Christmas. This will make them feel relaxed and wonderful. The scent of the candles can be chosen according to the liking of employees and clients. You can even add a special note along with the candle or add words of affirmation or appreciation. It's a minimal yet elegant gift option for Christmas.
Why Opt Humanitive for Christmas Gifting?
There are a lot of gifting options which can confuse you and waste your time. However, with Humanitive you can be sorted. Humanitive ensures to bring the best Christmas gifts for all age groups. They offer individual gifts and curated gift boxes with incredibly elegant packaging and customization. With a versatile range of gift boxes online in India, Humanitive literally eases up your burden of hunting for the top gifts for Christmas. The best part is the Christmas gifting process can be done while doing a good deed or giving back to society. Moreover,  the inspiring story of Humanitive followed by Humanitive testimonials makes them even more relevant and the best choice for Christmas gifting. So what are you waiting for? Pick up an enticing Christmas gift for your friends, family, and loved ones from Humanitive and automatically become a part of a great and positive cause.