Top 10 Rakhi Gifts for Your Sister
Remember the time when you used to buy Rakhi gifts for your sister with your parents' money? Or the time when your parents used to buy Raksha Bandhan Gifts for your sister on your behalf and you had no idea what they had? Or maybe that time when you started saving money just so that you could get your sister a gift from your savings?
Well, we are pretty sure that you remember all of it. We might be grown-ups now, but the love & care we have for our sisters never dwindles away.
The Rakhi festival is just a few weeks away, & as the nostalgia begins to set in, you might have started looking for gifts that would make your sister feel as precious as she really is. Since we are going through the same emotions, we have compiled a list of gifts for sisters on Raksha Bandhan. So ladies & gentlemen, read on to explore the best gifts for Raksha Bandhan that you can put in your Rakhi gift hampers.
Chocolates-
Rakhi with chocolates? Yes, if your sister has got a sweet tooth, just like us, then this is going to be a perfect Rakhi gift for her. Curate your Rakhi gift box with Choco Dates with Hazelnut Crème or Dark Chocolate Almond Rocks or Ferrero Rochers or Milk Chocolate Almond Rocks. And if you are searching for a unique chocolate option, then we highly recommend our "Heart Full of Roses Chocolate," which is heart-shaped chocolate covered with dried rose petals. Creating the Rakhi chocolate box as a gift is an idea that can never go wrong.
Candles-
Gone are the days when we just used to buy candles to use them when there was no electricity. Now we all love candles that can help us relax or help create a meditating atmosphere. Best candles can freshen up any space, and what's better than a candle that makes you crave cinnamon rolls? Various fragrances and varieties make candles a great gift for your sister. We offer premium double wicks scented candles made of soy- Midnight Jasmine, Key Lime Pie, Himalayan Pine, Strawberries & Creme Candle, Lavender Jardin Candle, Cinnamon Rolls Candle, Blueberry Pie Candle, and Vanilla Bean Candle. Add these candles to make a perfect Raksha Bandhan gift.
Scrunchies-
Do you know why scrunchies are used? You might have seen girls wearing scrunchies like bracelets & you must have thought that scrunchies are bracelets. But actually, it is a hair tie. Most girls wear hair ties in their hands so that they don't lose them somewhere. However, when the same thing happened with scrunchies, they became a trend & now it is used as a bracelet and hair tie. So why don't you add beautiful silk scrunchies in your Rakhi gift box that have dual uses?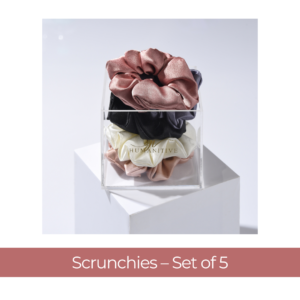 Cookies-
When it comes to cookies, fortune cookies are one of our picks that makes the best gifts for Raksha Bandhan. As you dive into the world of magic, you can find a lucky fortune or a prediction about your fate. You never know what you might get until you try it out yourself. And oh! Did we forget to mention how heavenly they taste?
Bath & Body-
Bathing products as a unique Rakhi gift for Sister? What if we tell you that it could be a great gift for your Rakhi box? How? Well, we aren't talking about just the ordinary soaps or products that you encounter in your day-to-day life. We are talking about Chocochip Waffles, Strawberry Crush Waffles, and Lime Pie Donuts. These donuts and waffles are not mistakenly included in the Bath & Body category. In reality, they're premium scented soaps that look and smell so heavenly that you'd want to eat them. If you are thinking of gifting something cute, adorable & unique, this may be it.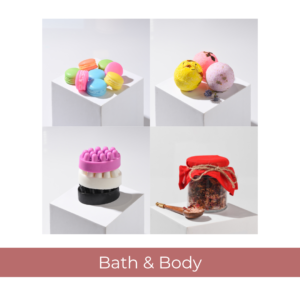 Guess what? All these products are available with us.
Scarves-
A scarf can step up your sister's fashion game. If she loves heritage elements then get her a Heritage Silk Scarf or you can get her a Leopard Silk Scarf for a fierce look this season. This Rakhee, try gift her something unique.
Tote Bags-
Tote bags are classy, help you to carry your stuff & they never grow out of style. Do we still need to convince you why it can be a good Rakhi gifting option? Our tote bags are made from 100% organic cotton, and we also have a special tote bag, which is called the "Whale Tote Bag". Bonus! every purchase of our Whale tote bag will help save whales from going extinct. Wow, we just found a cool, classy, handy, & impactful gifting alternative.
Zodiac Necklaces-
Statement necklaces are the trendiest way to style your clothes in an instant. A part of effortless and cool styling, this gift can make your sister happy in no time. And when we talk about statement necklaces, how can we forget about zodiac necklaces? Does your sister love astrology and check her horoscope every day? Then zodiac Necklaces are what you should get her this Rakhi. Add then in your Rakhi box now.
Hot Chocolate-
Raksha Bandhan comes around the time of the monsoon. And what's better than a Hot Cup of Gourmet Hot Chocolate with Marshmallows & Rich Chocolate Chips? Your sister will think of you every time she has this cozy drink.
Card Games-
Card games are a fun way to spend time with your loved ones. This Rakhi, give your sister a set of three different card games & strengthen & nourish your bond like never before. Rakhi calls for happy times & this can be a perfect gift for that.
Guess what? All these products are available with us. 
We were about to finish our list of gifts for sisters. However, we thought about how can we make all these gifts more impactful? We are an E-commerce gifting platform where you can get impactful gifts for your loved ones. It means that with every gift box that you order from us, you will also be donating on behalf of the gift's recipient. This donation will help someone in need.
Not just that, your sister will also get a personalized thank you video from the beneficiary. Additionally, all the necessary documents verifying the authenticity of the donations will be included in a donation kit in your gift box.
Looking for Rakhi Hampers online? Check out our ready-to-ship boxes for sisters.
Rakhi sale is now live. Don't forget to use code SHIPITFREE for free shipping & you will also be getting a complimentary Rakhee with every gift box that you order.
We hope you have a wonderful Raksha Bandhan celebration & a great shopping experience.