Welcoming a new non-profit!
We
are delighted
to announce that we have partnered with a new non-profit to curate gifts that give back.
The
National Association for the Blind
is a non-profit that has been serving
visually
impaired individuals since 1979
. It provides training on deaf-blindness to NGOs working in the disability sector.
NAB Delhi's vision is to make blind persons contributing members of society. They are paying special attention to the education & skill development of blind people. NAB Delhi aims to enroll every
visually
impaired child in mainstream education.
They
strongly
advocate the concept of integrated education for social fulfillment.
They also dream of embedding computer education and assistive technology into the lives of every
visually
impaired
.
If you want to support a good cause, then this is how you can start and give gifts that donate to charity & give great charity gifts
.
NAB Delhi's core aim has been educating
visually
impaired children since its founding. They send their students to many schools like Tagore International, Kendriya Vidyalaya, etc.
They also provide sessions of remedial teaching with the help of assistive devices & developed Teaching-Learning materials
.
To achieve education for all disabled children, they have also collaborated with the National Institute of Open Schooling (NIOS) to provide opportunities for those students who come late to the education system or have difficulty continuing regular school
.
By partnering with them, we will be able to contribute to the betterment of
visually
impaired people
.
The aim of their organization motivated us to help them so that these special people can become self-reliant in society
. This partnership will enable you to pick gifts that support a cause.
Our team visited the non-profit & met some beneficiaries of the organization along with members of the management community
.
When we were going to meet the beneficiaries, we walked by a classroom where some students were singing while others were listening to them
wholeheartedly
.
Whenever you think of giving someone a gift to spread a smile on their face, you can also donate on their behalf and give them gifts that support a cause
.
The campus
was filled
with positive vibes and with the laughter of merry children.
Our team also distributed non-perishable food items, school kits, writing aids, and other things at the non-profit to the children with special needs
.
Our website offers premium products that are great charity gifts, and you can add a donation that supports this cause
. We have added 9 new donation programs associated with NAB Delhi.
1) Sponsor 1 Folding White Cane for a visually impaired 
2) Sponsor an Accessible Writing Aid for a visually impaired child 
3) Donate a school kit to a visually impaired child
4) Sponsor School Accessories for a visually impaired child
5) Sponsor milk for 150 visually impaired for one day 
6) Sponsor tech support for 10 visually impaired students
7) Sponsor Accessible Books for a visually impaired child for a year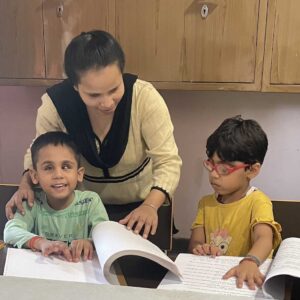 8) Sponsor a Celebration with 200 visually impaired children
9) Sponsor non-perishable food items for visually impaired children
This time give gifts that donate to charity by choosing a gift from Humanitive and donating to the National Association for the Blind to make it more unique and meaningful.