Women's Day Gift Ideas
Women's Day has always been an important part of our lives. They say that behind every successful man stands a woman. We don't know how much you agree with this, but we believe that there is that one woman in your life who makes you feel inspired and you are thankful to have her. We have come up with an array of meaningful gift ideas for Women's Day to help you find the best international women's day gifts.
Check out this block if you have some time to give your special woman a special woman's day gift. We have curated a list of some best gifts for women that will not only impress them but also empower women. Humanitive – A unique gifting platform is running a campaign called, "Empowered Women, Empower Women". It means that when you give a gift to an inspirational woman in your life you are also empowering an underprivileged woman on her behalf. What a great way to celebrate Women's Day! Check out the special boxes that they have released to help you get best gift for women's day.
1) Women's Day Petit
If you are looking for some budget-friendly gift ideas then this is what you should check out. It makes into the list of cheap Women's Day gifts. You can get this without burning a hole in your pocket. It comes with a wonderfully made Woman's Sculpture Candle. Along with this beautiful gift, you can also sponsor a Dignity Kit for 1 Woman with this adorable ready-to-ship petit box.
2) Women's Day Classic
Go a little extra with this elegant gift box. It includes a beautiful good vibes necklace, a scented midnight jasmine double wick candle, and a premium perfume with vanilla fragrance. With this gift box, you can sponsor 2 sanitary pads for 10 underprivileged women. These meaningful gifts are just making us more and more interested in them.
3) Women's Day Grand
This Grand Box is perfect if you want to gift a grand experience. Either you are looking for women's day gift ideas in office or women's day gift for wife, this is something that we would really recommend you. As the name suggests, it's a grand box that hold 6 gifts items. It include a perfume with the base note of vanilla and Tonka bean, a scented Strawberry & Cream candle, a set of massage bars that can help her relax, green tea, a silk scarf and fortune cookies. We absolutely loved the choose of gifts they chose for this gift box. They have added a donation to sponsor a Salon Starter Kit for an underprivileged girl. Not just this the recipient will also receive a personalized thank-you video. Amazing, isn't it?
4) Women's Day Luxury
Take your gifting game to a luxe level with this Women's Day Luxury gift box. It contains 4 premium gifts. In it, you'll find green tea, travel perfume, a candle, and an ombre silk scarf. The best part about this box is that it stands out from the rest because of its premium and luxe design and along with the donation kit you also get a picture of the beneficiary. With this gift box, you can sponsor sanitary pads for 50 underprivileged women.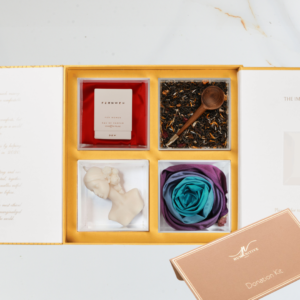 Loved these gift boxes? Well, this is not the end. We also have something more exciting for you. They have recently launched a collection called, "Spread The Love" and each of these products are sourced from different NGOs and a part of the sale will also go to these NGOs. So, if you know a woman who loves meaningful gifts then you should definitely check out their collection. They also have a pouch made by the underprivileged women of Shanti Sahyog which can also be bought from the website.
Into meaningful gifts? Follow us on Instagram, Pinterest and LinkedIn.